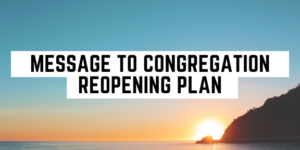 Hello Sisters and Brothers,
We pray all is well with you and your families. We are very excited to announce details for our first meeting together at our building this Sunday June 14. Drive in services will begin at 11:00. To those attending the drive in service, you will need to download the AudioFetch app to your smartphone or device. We suggest that you download the app before your arrival on Sunday. If you're attending and wish to sit outside, we ask that you to bring chairs for your family. Others may choose to stay in their cars. We are asking those sitting outside, that masks are worn. Restrooms will be available if needed. We will also have a live stream on YouTube available to those who will not be attending. This will be on YouTube just as the pre-recorded services have been. If you are unable to attend or watch during the live stream, a recording will be available via YouTube by 4:00 pm.
Our love goes out to those that cannot come and we understand some are not ready yet. This is a journey we need to walk together as we develop our new normal for now. We ask for your prayers and patience as we start down this road of meeting together.