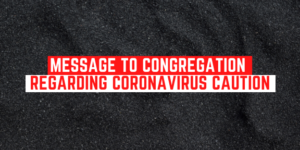 Hello Lakeview Family,
We hope each of you has a happy Easter with your families and with each other during classes today.
It has been 29 days since we last met at the building. The virus continues to cause us to be unable to physically meet. This is an opportunity for soul searching and self-examination, the kind of personal reflection that refines faith and strengthens character which ultimately increases our humility before God.
Although we aren't meeting physically, we can reach out to each other through phone calls, the Lakeview Facebook page, letters and cards. We encourage each of you to do the unexpected and reach out even to members you don't know that well. It can be a blessing for them as well as you as we share part of our lives with each other.
Remember church is not limited to a building, it's about the people. With all the negativity everywhere, we need to actively overcome it by dwelling on the positive and keeping our faith outlook. One of the worse things we can do, is not trust in the Lord by focusing on "bad things" that will not in any way improve our situation. Stay informed, but do not let bad news become all-consuming.
– Open your church directory and call someone you have never spoken with before and have a get to know each other call while checking on them
– Pray for someone (by name) you have never prayed for before
– Take time to join our online classes and sermons, and those from other churches of Christ online
– If able get outside for a walk or play with your family
– Set aside time you may have now for a study you have wanted to do for a while
If you, or anyone you know, needs support or prayers, please contact an elder, Brent, or the office, so we can engage with that person. If you would like to study or have questions of a particular concern, please contact us through the aforementioned means.
In Romans 12:2 it reads: "Do not be conformed to this world but be transformed by the renewal of your mind that by testing you may discern what is the will of God, what is good and acceptable and perfect.
In Philippians 4:8 it says: "Finally brothers, whatever is true, whatever is honorable, whatever is just, whatever is pure, whatever is lovely, whatever is commendable, if there is excellence, if there is anything worthy of praise, think about these things.
We want to thank everyone for their efforts in giving at this time. It shows our commitment to the Lord's Kingdom and the furtherance of his work.
Through Christ, we will get through this time together and with the right focus be stronger in our faith."