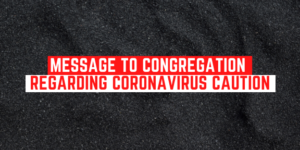 Lakeview family,
We pray everyone is doing okay as we go through these times together. We know we are all facing specific challenges as this situation continues. We are very invested in the physical and spiritual health of each member of our Lakeview family. Additionally, we are praying for many not local to this area that are directly impacted by this illness.
Here are a few ideas to help grow faith and relationships at this time: (do keep in mind that a good number are still working and may not be able to get back to you immediately)
Open your church directory and call someone you have never spoken with before and have a get to know each other call while checking on them

Pray for someone (by name) you have never prayed for before

Take time to check out our online classes and sermons, and those from other churches of Christ online

If able get outside for a walk or play with your family

Set aside time you may have now for a study you have wanted to do for a while
We are transitioning small groups to online only right now in response to the governor's two week "stay at home" order. Take time to check with each person in your small group to make sure they can get connected. If you have the know-how, coach someone that may need it. If you need a hand, ask someone in your group to help you connect.
Take the time to invite members who may not have come to small groups before or guests to your small group to be part of the discussion and experience.
We are keeping a close watch of this situation as it develops and will continue to communicate with everyone frequently. As changes happen, we will get a message out through all our channels.
Lead with love, extend grace, check-in often, pray for each other, and use wisdom in all your decisions.