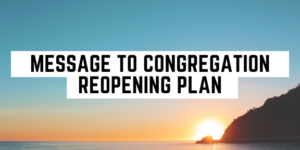 Hello Brothers and Sisters!
We are excited to continue phasing back into our class schedule by:
Resuming our children's Bible classes on Sunday, September 27th at 9:00 AM
– The teachers in your child's class have prepared their rooms with the child's safety in mind; hand sanitizer will be available upon entry, social distancing procedures are in place, and individual supplies will be provided.
– As an additional precaution, face masks are required for children 5 years and above.
If you have additional questions, please contact Jim Karkosky
The Sunday morning adult class will remain at 9:00 AM and be held from the library on zoom and be offered to any that may want to attend in person. (If space is needed the class will move for more room)
There will be an additional adult class being offered in room four with the topic "Blessed Assurance" based on the book by Dick Ady.
In light of these changes worship services will begin at 10:00 AM in the auditorium beginning this Sunday, September 27th.
We hope to see you all at class and worship!