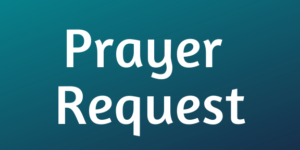 We would love to pray with you and for you. If you have a need, please make it known by clicking on the link below.
Prayer requests that are made can either be made know so that the church can pray for you or kept private.
We will contact you if you would like as well. Can we be a prayer warrior for you?
Cyndi Larsen, June 13, 2021 - 5:39 pm
Paul Larsen will be having his third (and hopefully final) sinus surgery on Wednesday, June 23rd. This one will be more invasive than the other two, and will hopefully correct all the issues.