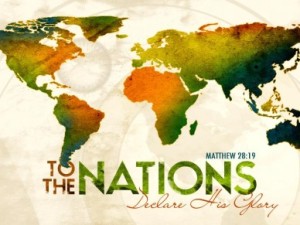 The Lakeview Mission Ministry supports mission outreaches of the churches of Christ across the world. In most cases, one or more members of Lakeview have gone on a mission before Lakeview has contributed as a church. In all cases, we lift up the mission in prayer and maintain contact over the years.
We have supported outreach efforts in Russia, the Philippines, Zambia, Ecuador, Honduras,
through Eastern European Missions in the Ukraine & related countries
and through the Sunset International Bible Institute to provide Solar Players in Kenya, Ethiopia & other parts of Africa.
Closer to home we help support the ministries in both Aberdeen, WA & Shelton, WA. Our teens go to Mountain States Children's Home in Colorado to do mission work every even year. Members of Lakeview travel to Zambia, Africa to work with Zambia Medical Mission, ministering to those in need in a Third World Country. We also support the education-related ministry in the Philippines.
The Missions Ministry can use your help in communication, maintaining contact and a feeling of support between these missions and the congregation at Lakeview. Skills with electronic media (ie Skype) can bring the people of God, who are far away, closer home. This strengthens their courage and provides them with resources that smaller mission churches simply do not have.
If you feel a bond of kinship to Christians around the world, there is an opportunity for you to serve in the Missions Ministry.
Contact Dan Fitzsimmons for more information about this ministry.
Shelton Church of Christ – Shelton, WA
Ethiopia, Kenya & other part of Africa