Lakeview chUrch of Christ
Welcome to Lakeview! Please take time to browse our site and see the work that is being done in His Kingdom here. Check out the about us section and if you have any questions please reach out to us. We would love to hear from you.
Kids & Families Christmas Party Saturday, December 11th, 4-6 p.m.
This is for all kids, up through 12th grade.
Adult volunteers needed to help with: Prep, leading activities, bringing something for the meal, and/or clean up.
Please see or message Lainie Minson for more info or to volunteer! 253-310-1796
=====
Lakeview Teen Area Wide, Sunday, December 19, 2-7 p.m.
There will be praise, encounters, a lesson, game time, dinner, and more praise. Even an ugly sweater contest!
We hope yo see our friends from around the area!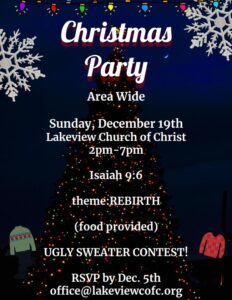 =====
Lakeview is currently seeking to hire a Youth and Family Minister. If you have an interest in this kingdom work please visit our Careers section under the Announcements tab.
=====
In continued concern for our member's health the Shepherds have evaluated the new mask mandates from local, state and federal health organizations this past week. Beginning next Sunday, September 5th we are requesting everyone to wear a mask while indoors regardless of your vaccination status. If you have a medical issue that keeps you from wearing a mask that is fine. For children up to two years old a mask is not recommended.
This is only for while we are indoors

We are not changing any other part of our worship service at this time.

This is a temporary change while we watch COVID transmission numbers due to the spread of the delta variant.

As we discover new information or make any changes, we will update you at our first opportunity.
LIVE STREAM INFORMATION
The above link should take you to our Sunday morning livestream services! Service begins at 10am PST.
Be sure to follow our adult class on Wednesday evenings. Follow the above link. Class begins at 7pm PST.
At Lakeview, God has brought together this family of individuals of highly varied backgrounds and has created a loving, caring congregation of His people. The church we read about in the New Testament was an exciting church. It was one filled with love. It was busy meeting the needs of people and bringing glory to God. We strive to be that church of Christ — worshiping and serving God as the church of the first century did. In this way, we are building an exciting fellowship with God's word as its pattern, God's love as its motivation, and God's blessing as its source of strength and power.